I know knitting patterns look confusing to new knitters, but they are your key to knitting freedom. If you can learn to read patterns you have opened the door on a vast treasure trove of fun, exciting, and interesting knitting projects.
Knitting patterns are written with abbreviations, symbols and punctuation marks. A new knitter should start learning the basic abbreviations, which are CO = cast on, K or k = knit, P or p = purl, BO = bind off, WS = wrong side and RS = right side. The basic and most frequently used symbol is the asterisk * mark. Instructions written between the * marks are meant to be repeated, more about that later. Commas are used in patterns to tell you to stop and check the pattern again for the next step. For example, in the pattern below, row 6 says "*K3, p3, . . . ."  You should read up to the comma, stop reading and complete the action you just read. After you have knit 3 stitches look at the pattern again to read the next action, which is "p3,"; which means purl 3 stitches and stop, re-check your pattern for the next action.
With these basics you are ready to knit a washcloth/dishcloth. I suggest you start out with a washcloth (if it's handmade call it a spa cloth). A spa cloth is a short, sweet, simple, inexpensive and a great practice project where gauge does not matter. (Woo-hoo, no gauge swatch.) Try this super easy cloth by Shelia Ralston that I found on Ravelry. Ravelry is a free knit and crochet website.
Garter Rib Dishcloth Spa Cloth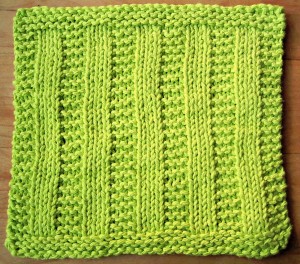 50 yards worsted-weight craft cotton yarn
7.5″ x 7.5″ (19 cm x 19 cm)
CO 33 stitches
Rows 1-5: K.
Row 6 (WS): *K3, p3, repeat from * to last 3 stitches, k3.
Row 7 (RS): K.
Repeat rows 6-7 until piece measures 6.5 inches/16.5 cm from cast-on.
K4 rows.
BO on WS, weave in ends.
Let's go through these instructions and pattern line by line. Garter is the name of a stitch pattern created by using all knit stitches. In garter stitch there is no knit side and purl side, every stitch is a knit. Rib or ribbing is a pattern of stitches created by alternating knit and purl stitches in the same row. If you have a needle full of stitches and knit the first stitch, purl the second stitch, knit the third stitch, purl the fourth, etc., . . .  alternating in this manner to the end of the row, you have created ribbing. In this pattern the ribbing is created by knitting 3 stitches, purling 3, knitting 3, purling 3, etc., alternating to the end of the row or until the pattern says to stop.
"50 yards worsted-weight craft cotton yarn" is the material you will need. I suggest you go to Michael's or JoAnn's and pick up Lily's Sugar n' Cream yarn, one ball is enough for a nice sized spa cloth. Sugar n' Cream is cheap, $0.99 on sale, $1.99 otherwise. Get a light solid color for your first piece because it will be easier to see your stitches. Read the label carefully, they sell a version of this yarn infused with a scent, a scent which I did not care for at all. I learned this lesson the hard way.
About needles for this project, the yarn label for Sugar n' Cream calls for a number 7 needle to reach a gauge of 20 stitches by 26 rows equal to a 4″ x 4″ swatch. Buy number 7 needles that are 9″ long. If you knit with really long needles on a small project they will just get in your way. I have almost exclusively bamboo needles, which work great for me because they aren't too slippery. For someone new to knitting you might want a slicker surface, therefore consider a metal needle. It is really personal preference.
The finished size for the designer was 7.5″ x 7.5″; since gauge is not an issue don't worry about your finished size. I think a tightly knit spa cloth is better than a loosely knit cloth because it will hold up longer.
Now for the pattern, "CO 33 stitches", simple, cast on 33 stitches, using your favorite cast on method, leave a tail of 6 inches. I am a big fan of the long tail cast on. There is a good video on this technique at Jimmy Beans Wool.
"Rows 1 – 5: K", after the cast on just knit 33 stitches, turn your work and knit 33 more. It's that simple, don't read more into it, just do what the pattern says. Keep track of your rows on a piece of paper by making hash marks after you finish a row. If you are new to knitting this is a crucial piece of advice. You don't want this to be stressful, make it as easy on yourself as possible. I can't tell you how many times people have ripped out knitted rows because they did not keep count. You don't have to do this forever, just until you get the knack of looking at your work and counting the rows visually.
"Row 6 (WS): *K3, p3, repeat from * to last 3 stitches, k3.", the first abbreviation is WS which means wrong side. This information about row 6 being the wrong side will be important later on when you bind off. If you want to mark this side as the wrong side tie a piece of contrasting yarn to a stitch and you will always know it is the wrong side. Next it says "*K3", the * mark will be important a little later, for now you knit 3 stitches and stop; check the pattern, which says "p3," now purl 3 stitches and stop at the comma. After the comma the patterns reads, "repeat from * to last 3 stitches,". The * after the word "from" tells you to go back to the first * and do what ever it says again up to the next *. In other words create ribbing, as I described above, knit 3, purl 3, knit 3, purl 3, k3, p3, k3, p3 . . . up "to the last 3 stitches," this means you work k3, p3 ribbing until there are only 3 stitches left on your needle, then stop, check your pattern for more instructions, which are k3. Knit those last 3 stitches and you are finished row 6.  
"Row 7 (RS): K", RS means this is the right side, and K tells you to knit every stitch. Now your pattern is established and in a few more rows you will begin to see it. Take the time to examine your work and soon it will be easy to just see which is the right side vs. the wrong side.
"Repeat rows 6-7 until piece measures 6.5 inches/16.5 cm from cast-on." This means go back to row 6 and follow those instructions. Then go to row 7 and follow those instructions. Keep alternating these rows until your spa cloth measures 6.5 inches, from the cast on edge or however long you want it to be. (Remember size is personal preference in this case, no one is wearing this thing after all.) Leave enough yarn for the last four rows which will make up the edge.
"K4 rows." When you reach the desired length knit 4 rows. Your last row before starting the 4 knit rows for the edge must be a row 7.  
"BO on WS, weave in ends.", BO is bind off (also called cast off), and weave in your ends. Check what WS means, it is at the beginning of this post. Cut the working yarn with about 6 inches from the end of the last row, weave in the ends. Ta-da, in these few easy steps you have a spa cloth. Now go take a bath and enjoy it, you are very stressed after all this.
I can just hear you now, "Genie, for a super easy pattern that was a lot of little details to remember!" I know and you're right it is a lot of little details, but think back to when you learned to drive? You had to master lots and lots of much more important details, like adjusting the seat, checking the mirrors, putting on your seatbelt, making sure the car is in park, before you even turned on the ignition, and once you got on the road you had to watch out for pedestrians, animals, stop signs, stop lights, one-way signs, yield signs, street signs, house numbers, and let's not even get into parallel parking for the first time. But I'll bet within a month of getting your license you were cruising around town and doing it all without even thinking about it. And now you drive around while talking on the phone, hands free of course. Sometimes I wind up at my destination and I can't remember doing the actual driving. That is what knitting is like, lots of details at first that come together to form a kind of muscle memory and your hands just know what to do. Trust me, read the pattern in little bits, just what is between the commas, practice a few minutes each day and you will soon be giving away spa cloths by the dozen.
Last piece of advice for today, when you buy your yarn get three balls of Sugar n' Cream, all light colors. Make three of these spa cloths in succession and by the end your hands will just know what to do, your conscious mind will begin to disengage and the bliss of knitting will ensue.
For more information on how to read knitting patterns go to the Craft Yarn Council's website page on reading knitting patterns or Vogue knitting's site.
Contact me via email at econtrata@greenburghlibrary.org or at 914.721.8232 if you have questions. The next Knitter's Knot meet-up is Thursday, September 4, 2014, at 2:30 p.m. See you then and bring your spa cloths, I'd love to see them.